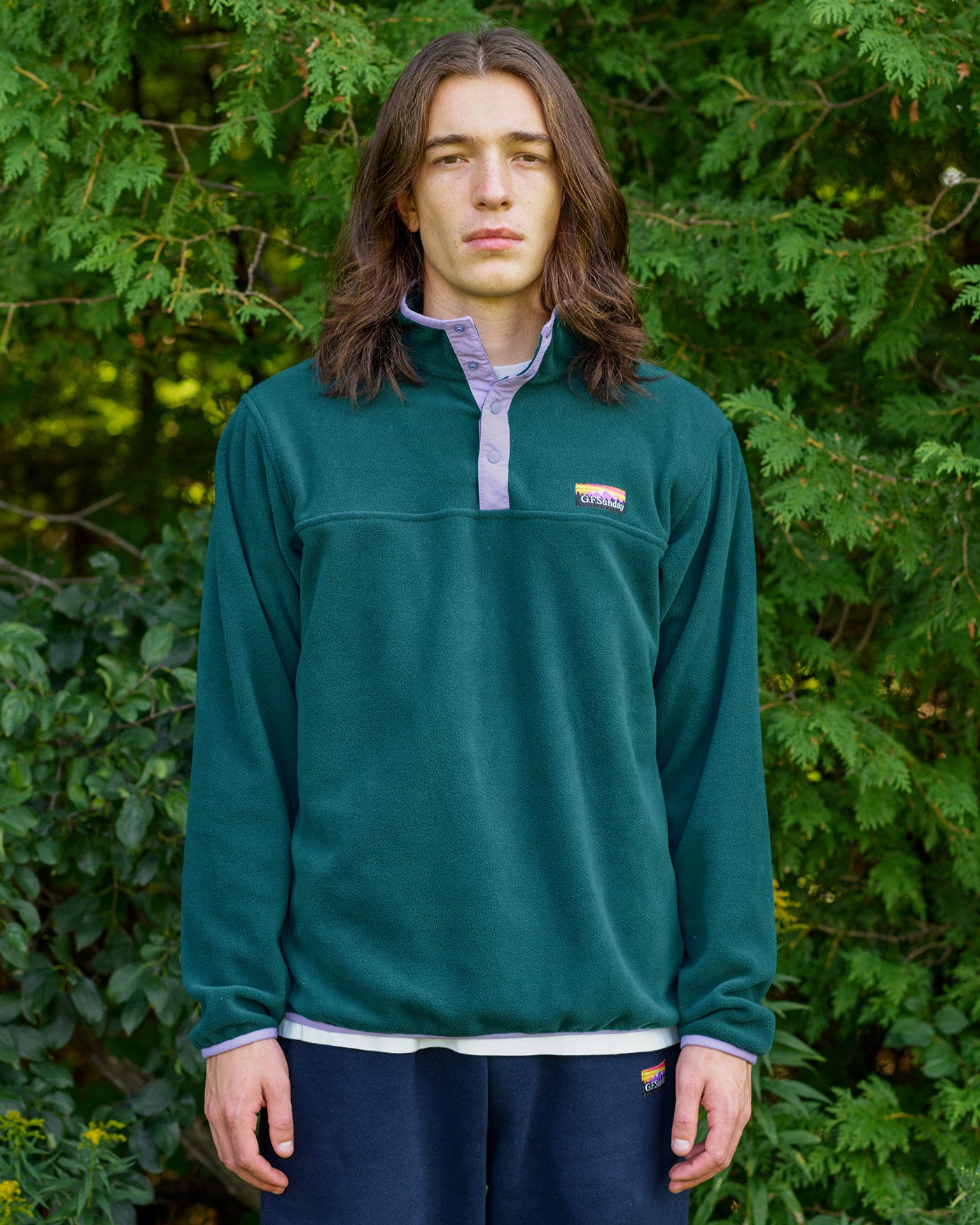 Gabe is 6'1", 38" chest, 31" waist, wearing a L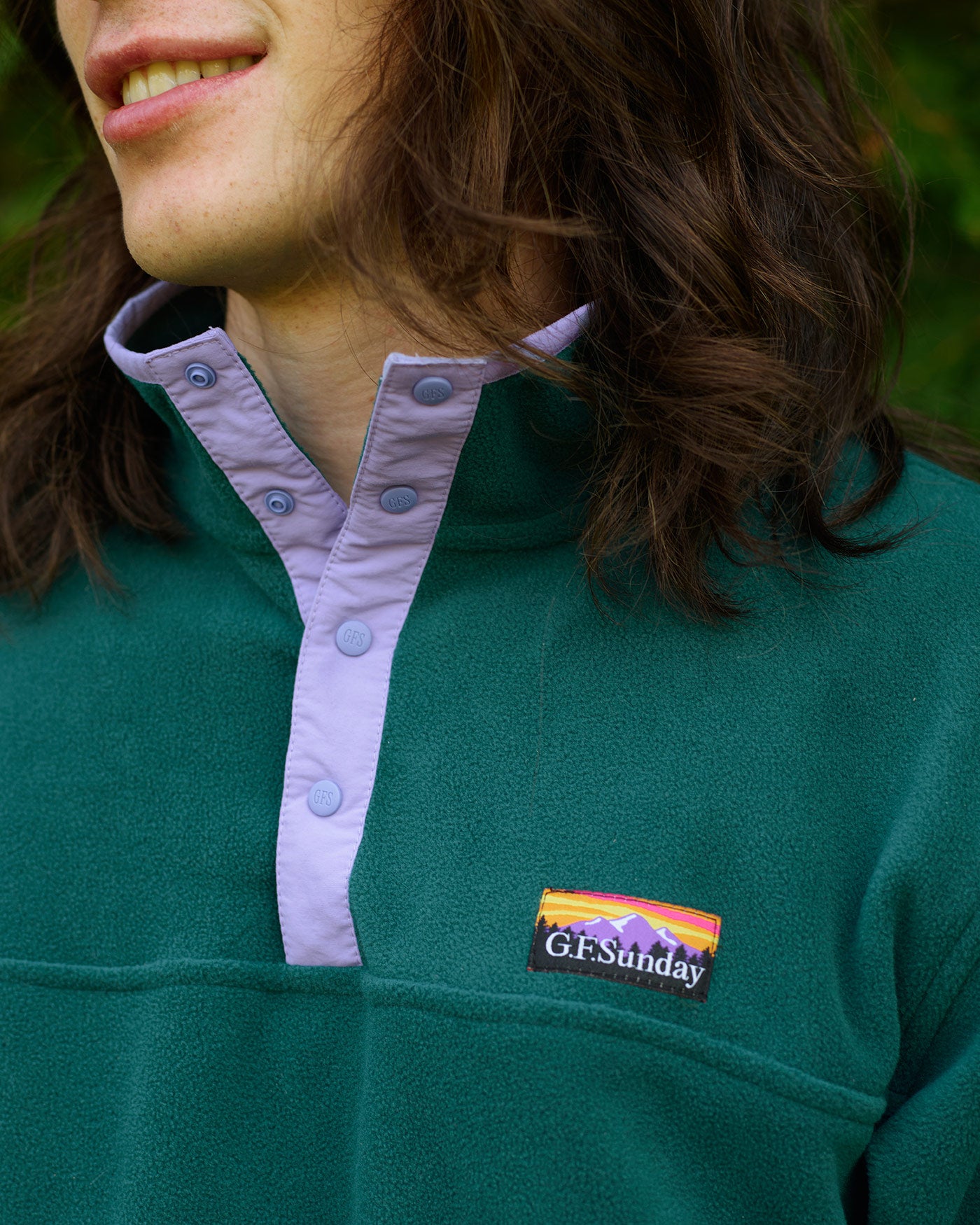 Logo stamped buttons and outdoor-inspired woven patch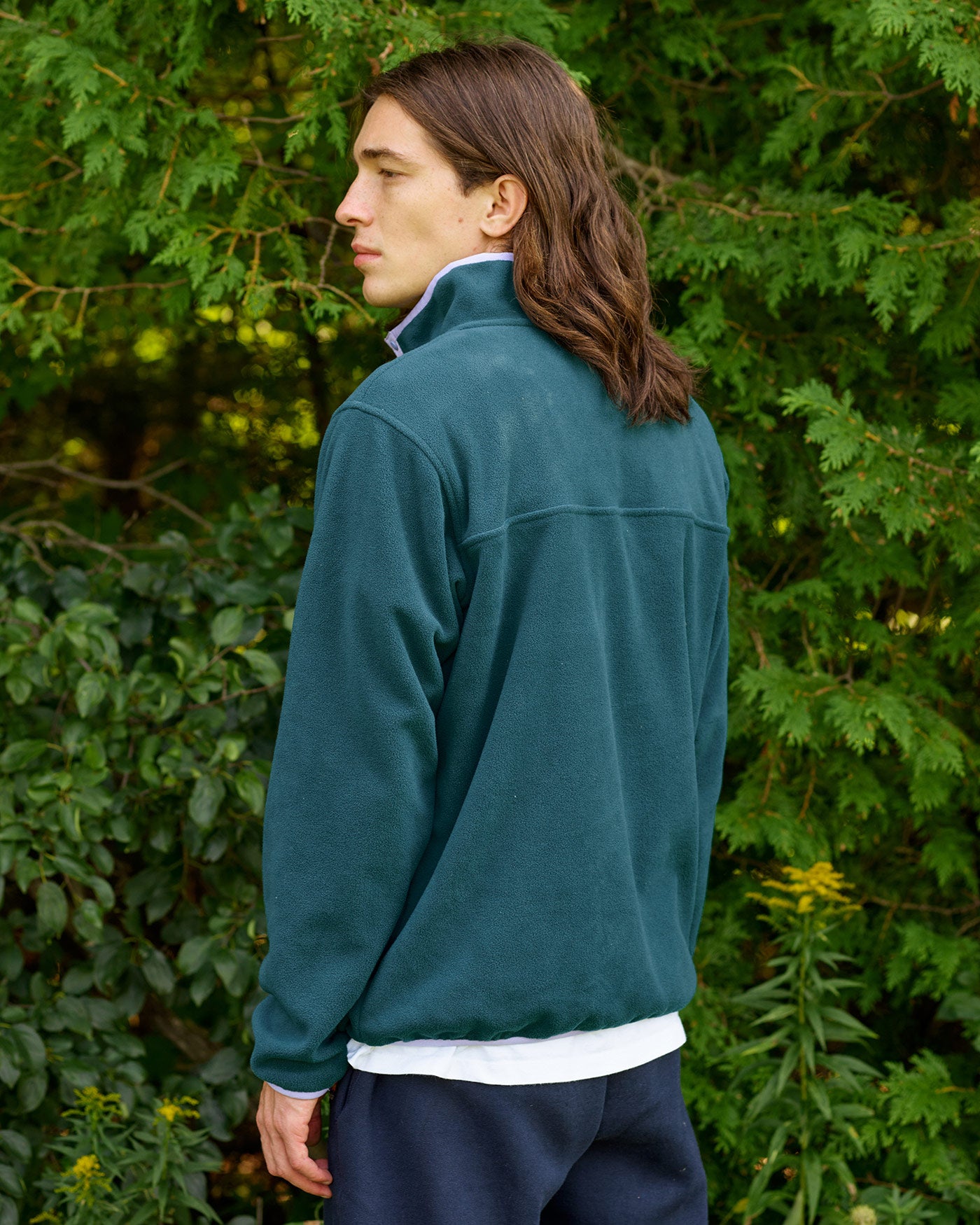 Gabe is 6'1", 38" chest, 31" waist, wearing a L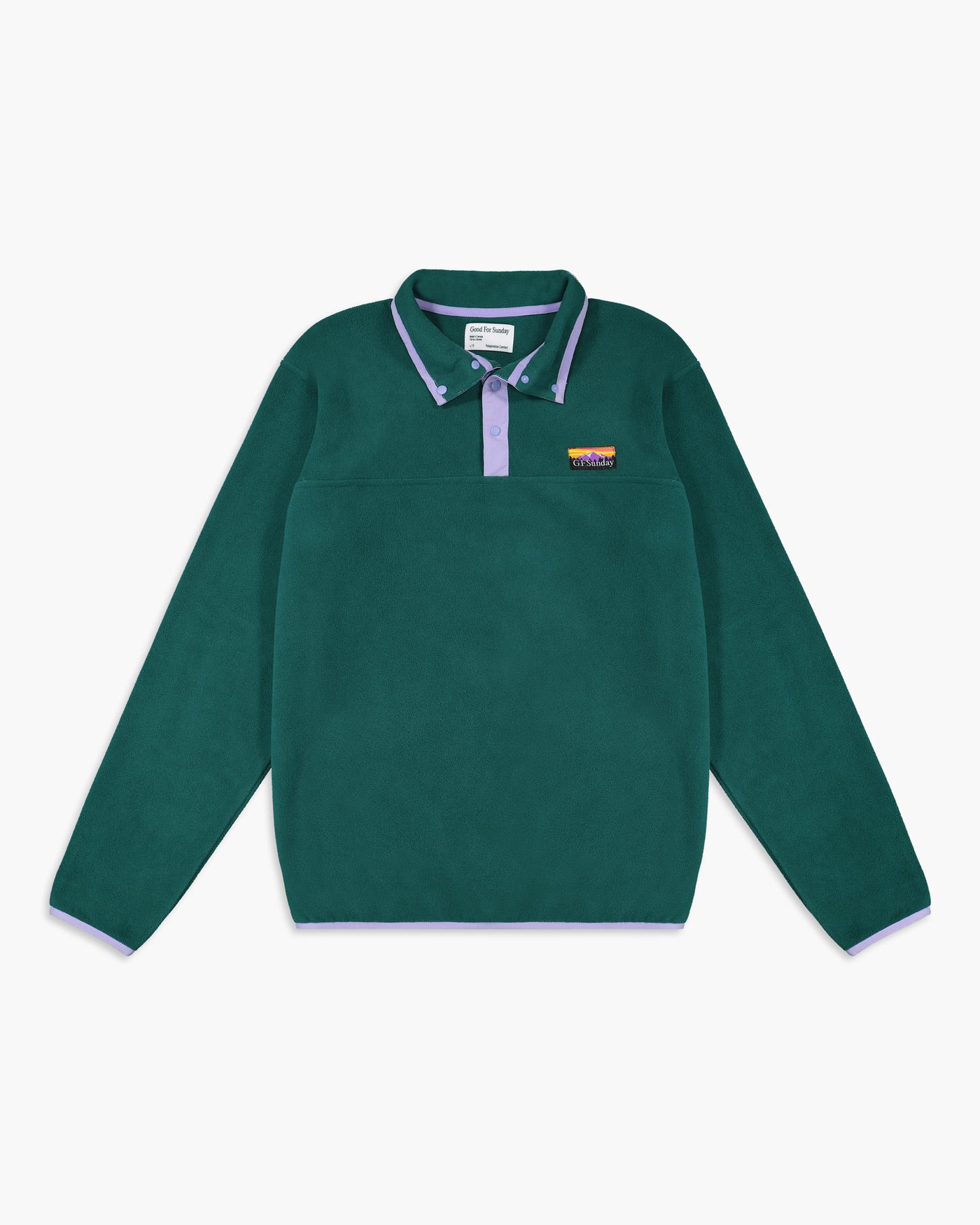 Recycled Polar Fleece Pullover in Pine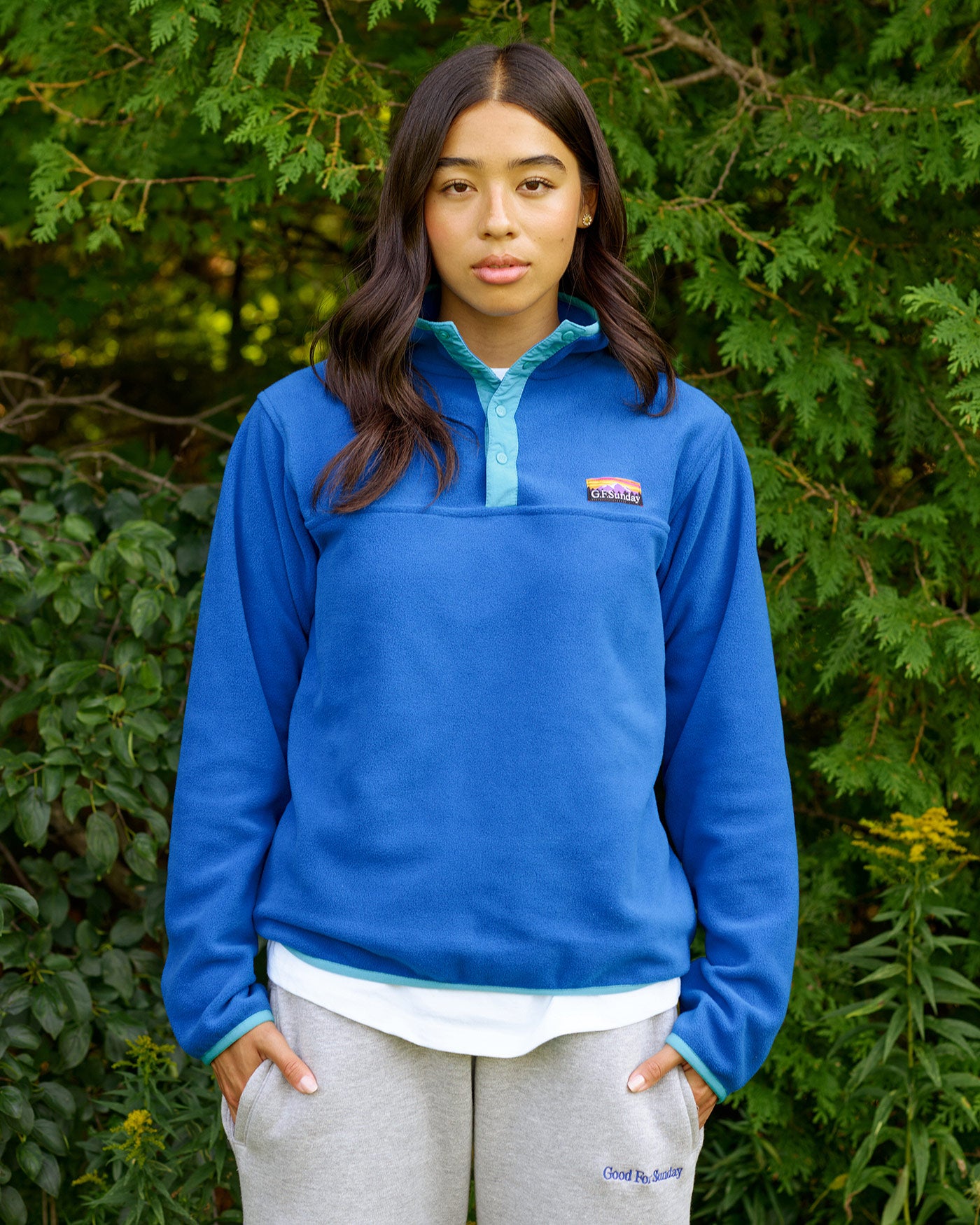 Helena is 5'8", 32" bust, 24" waist, wearing a S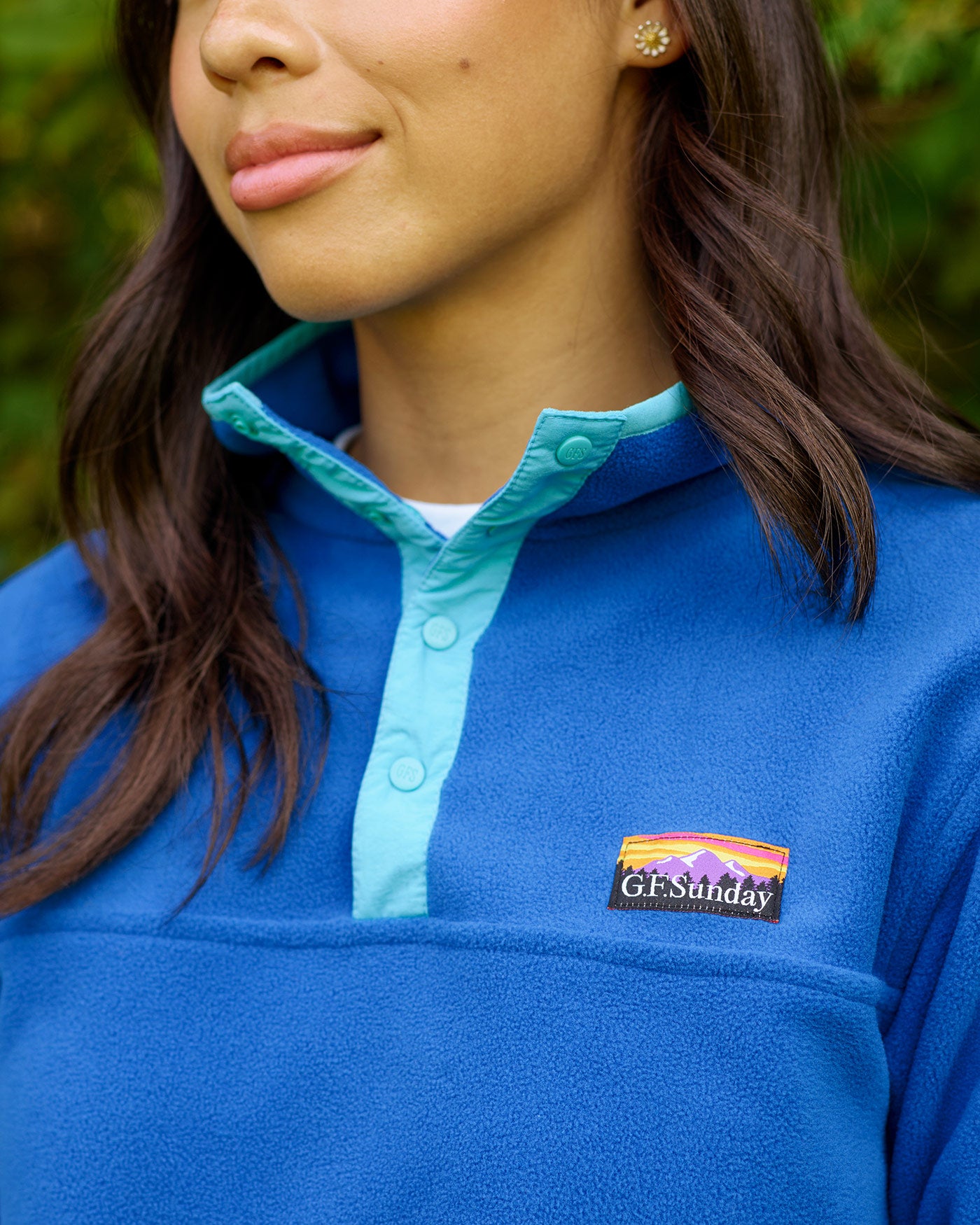 Logo stamped buttons and outdoor-inspired woven patch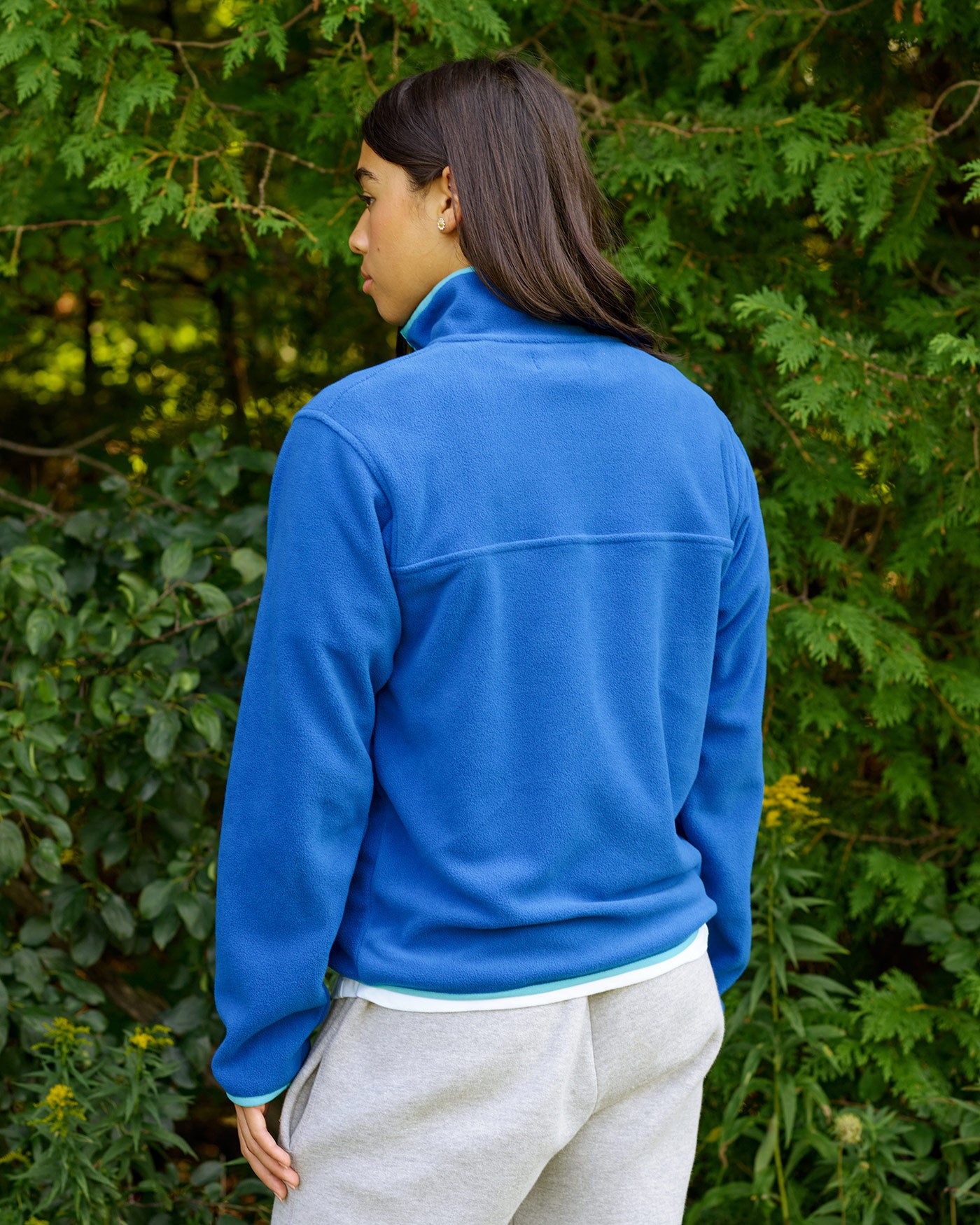 Helena is 5'8", 32" bust, 24" waist, wearing a S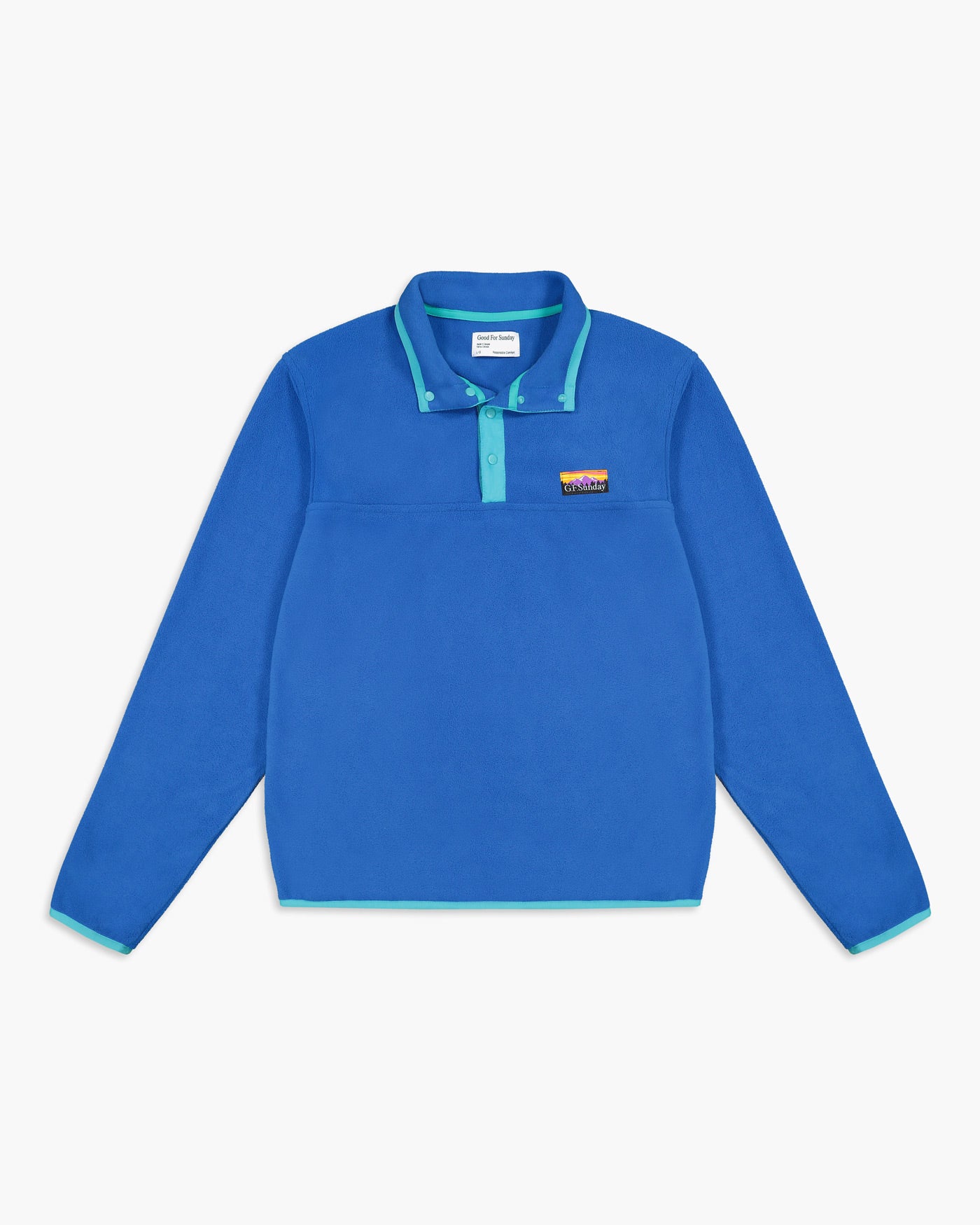 Recycled Polar Fleece Pullover in Retro Blue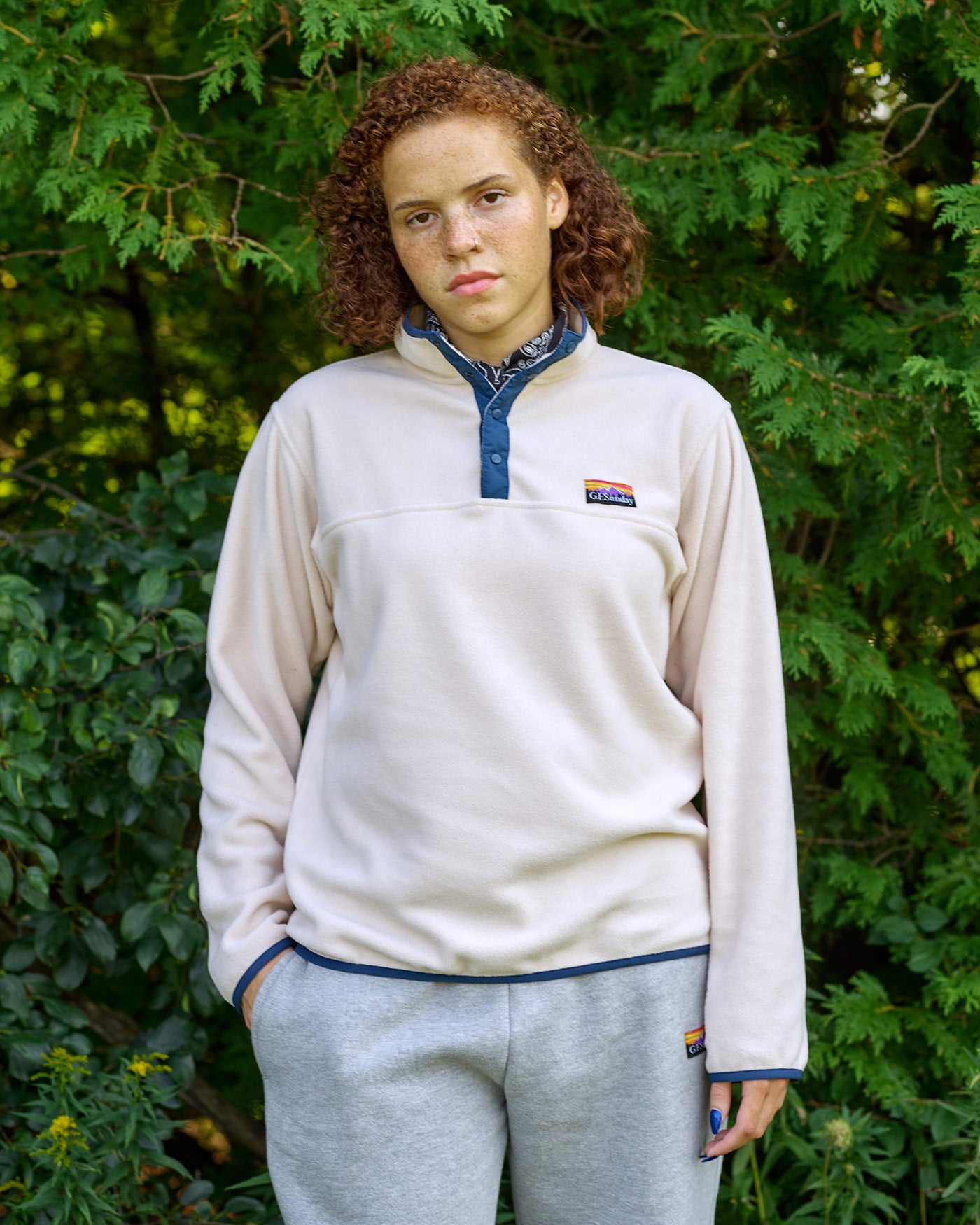 Nev is 5'9", 38" bust, 31" waist, wearing a L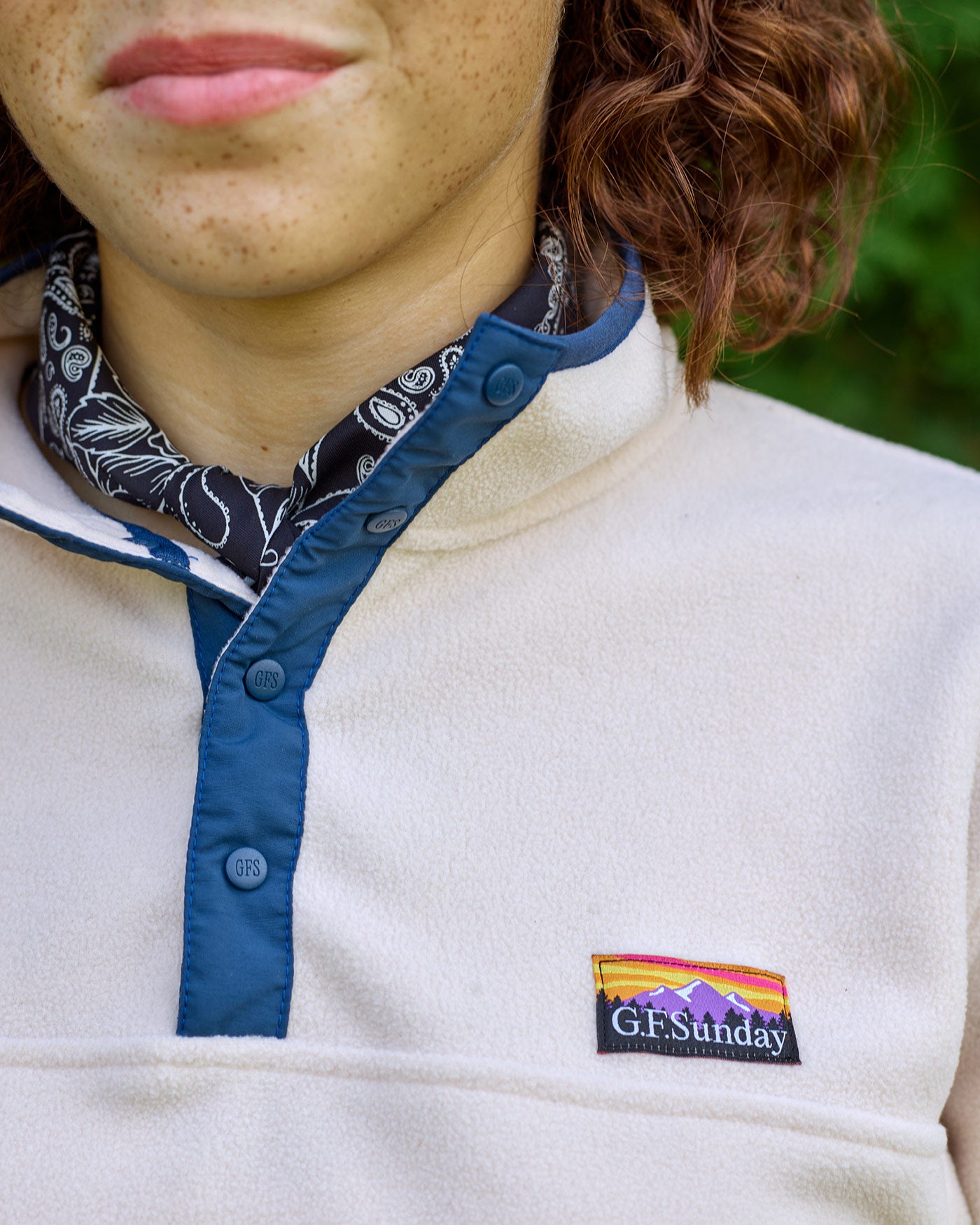 Logo stamped buttons and outdoor-inspired woven patch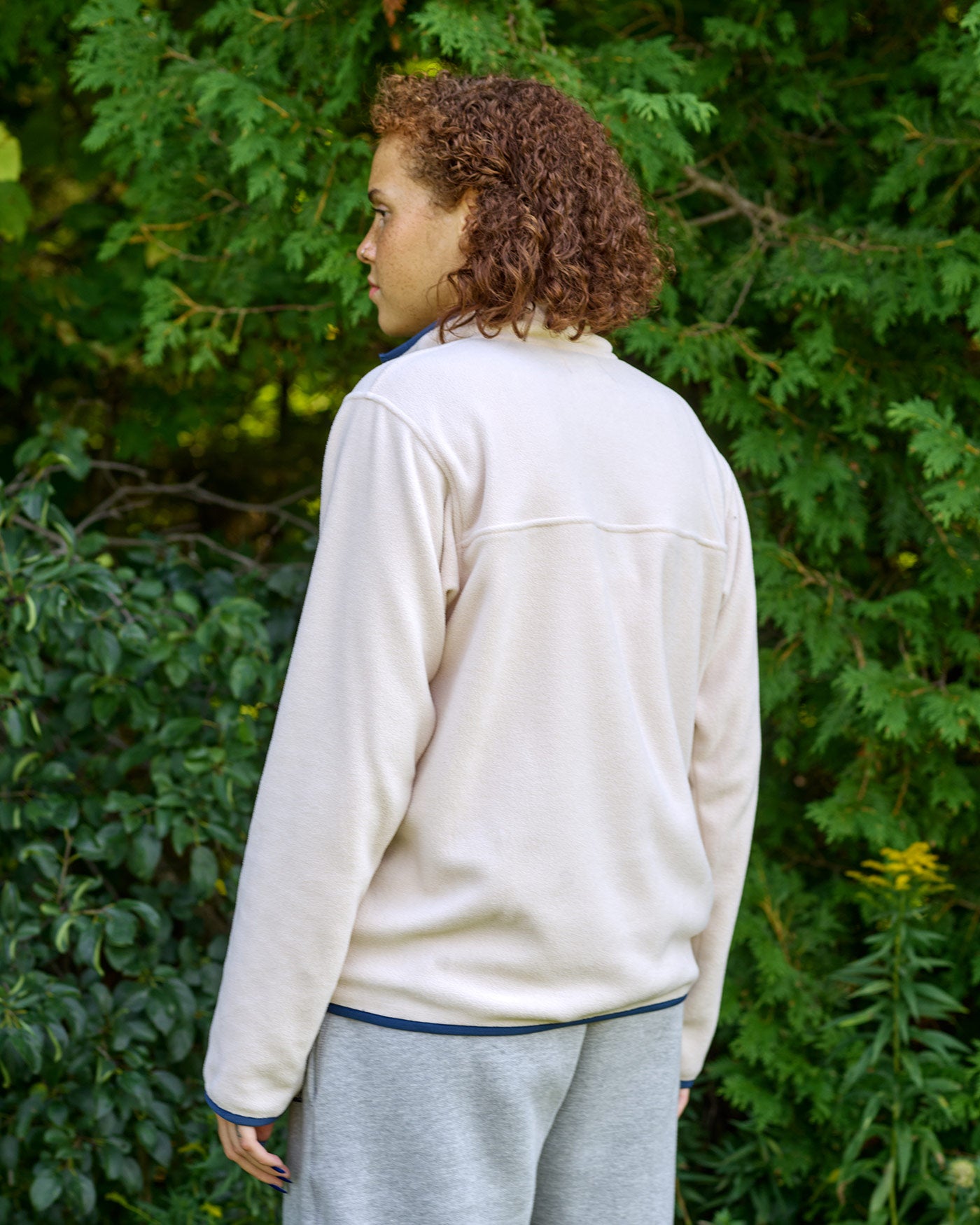 Nev is 5'9", 38" bust, 31" waist, wearing a L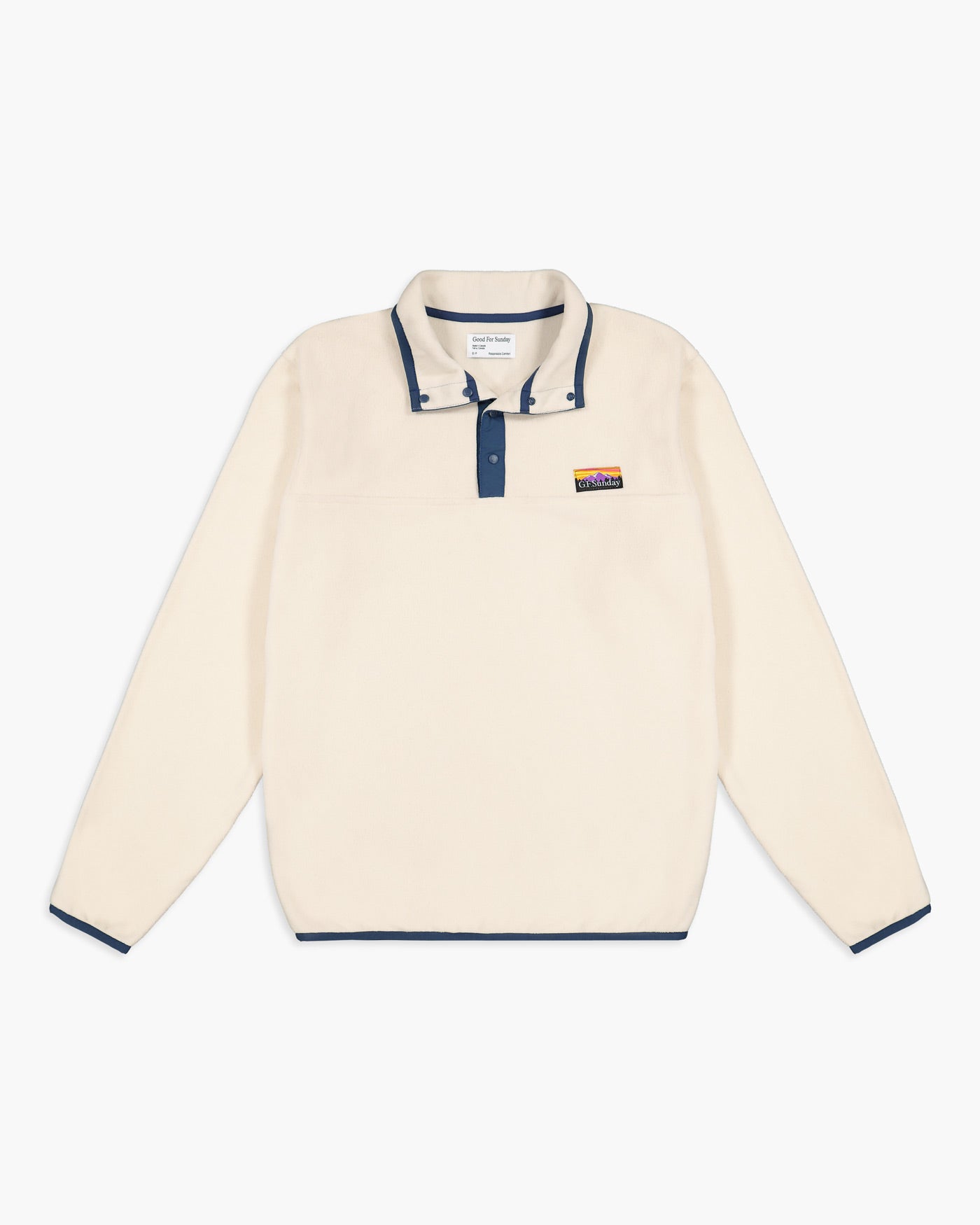 Recycled Polar Fleece Pullover in Ecru
Recycled Polar Fleece Pullover
Description
Shipping & Returns
The fleece pullover has been a classic since the early '80s. We've taken this Canadian outdoor wear staple and remixed it with recycled materials and ethical manufacturing. Soft to touch, warm, and oh so comfy, it features a four snap-button placket, a colour contrast trim and woven outdoor-inspired Good For Sunday patch on the left chest. Did we mention that it's also designed and made in Canada?
Details: Snap placket closure, woven patch on left chest, contrast sleeve and hem piping.
Fit: Gender neutral fit. Slightly relaxed. Women may prefer to size down.
Material: 100% Recycled Polyester Polar Fleece.
Origin: Made in Toronto, Canada.
Care: Machine wash cold, dry flat.
★ 0 out of 5 -&nbspSee reviews (0)
Eco-friendly shipping
Carbon offsetting
We automatically neutralize the shipping emissions of your order by donating to reforestation projects. We've partnered with Pachama, a best-in-class organization in carbon neutral protocols and standards.

Learn more about sustainability ➔
Compostable shipping
Every order ships in a 100% compostable mailer. Add it to your at-home compost and it will enrich the soil with plant food over 6 months until it completely decomposes.

Learn more about sustainability ➔
Material spotlight
Recycled Polar Fleece
Polar fleece is typically made with virgin polyester because of its benefits to durability and shrinkage. Instead, we've opted to use polyester recycled from garments that have reached the end of their life.

The result is an innovative material that is warm and durable, giving you a long-lasting garment that will provide years of comfort.
Make it a matching set
Pair your new pullover with an EcoFleece™ sweatpant to complete the look.
What's in our pricing?
It's a fair question. The answer is simple: treating people fairly.

Since we manufacture in Canada, costs to create our products are much higher than comparable brands. The largest difference is in labour. We provide our production staff a living wage, health benefits, and a safe and comfortable working environment. Other brands that manufacture overseas pay a fraction of those costs due to unethical labour laws.
Learn more